Podcast: Play in new window | Download
Subscribe: Apple Podcasts | Google Podcasts | Spotify | Android | Stitcher | Email | TuneIn | RSS | More
Guest: Steve Blasiak, Private Market Specialist
Real estate investors and entrepreneurs are naturally out of the box thinkers and are constantly looking for ways to diversify their portfolios. Without even realizing it, they may even already have alternative strategies such as second mortgages and alternative lending. This week's podcast guest Steve Blasiak, Private Market Specialist, provides even more alternative investment options and the biggest difference is that these investments are regulated.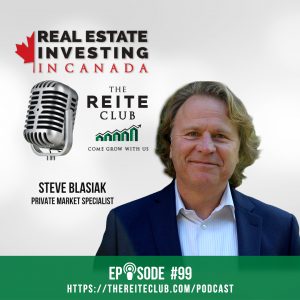 Steve provides insights and advice on alternative investment options. He also walks us through examples of different short-term, medium-term and long-term investment options. His main message is that there are many alternative investment opportunities and it is a great way to balance your portfolio.
In this episode you will learn about: 
Alternative investing options and opportunities
Why have people not heard of alternative investing before?
Understanding the risks of these investments
Examples of short term, medium-term and long-term investment options
Explaining the pension style portfolio
Stemming from a background immersed in the residential and commercial construction industry, Steve Blasiak brings over 30 years of accumulated experience to his current passion and post in wealth management consulting.
Beginning with coating sales, Steve's subsequent success in recycled paints garnered national attention and new and ever-evolving conversations as a Green LEED (Leadership in Energy and Environmental Design) consultant with all interested parties; from contractors to architects, property managers to land developers, all contributed to Steve's diverse understanding and innate ability to assess value for money as it pertains to property development.
Steve focuses on commercial industrial and retail service and sales solutions; applying communication and behaviour strategies that exemplify persuasion and influencing excellence. His expertise with key account management and relationship development has been a direct reflection of his unwavering positive energy. Beyond business, presentation, motivation and training success, he incorporates a personal coaching style and skill that offers individuals the opportunity of achieving the balance they seek between their business and personal life.
Comfortably transitioning from on-the-scene to behind-the-scene, Steve now enjoys the role of creating investor and investment matches, both as a licensed Mortgage Agent and Private Market Specialist. Recognizing a sound investment opportunity includes all aspects; from concept and strategy to the communication and execution and everyone involved. Steve aims as his mission to maximize all potential gains for both investor and investment success.
Get in touch with Steve:
Website: https://pinnaclewealth.ca/
Phone: 416-464-3085
This episode has been brought to you in part by
Black Jack Contracting Inc – https://blackjackcontractinginc.ca/
Private $ 4 Mortgages – http://privatemoney4mortgages.com/
Butler Mortgage – https://www.butlermortgage.ca/