Podcast: Play in new window | Download
Subscribe: Apple Podcasts | Google Podcasts | Spotify | Android | Stitcher | Email | TuneIn | RSS | More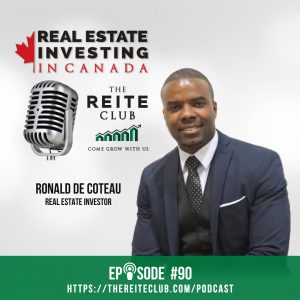 Guest: Ronald De Coteau, Real Estate Investor
Secondary suite conversions are a very lucrative strategy and you can make a lot of money doing it however if they are not done properly, they can cost you just as much. This week's guest, Ronald De Coteau, Real Estate Investor & President of Property Pathways Inc decided to take action by focusing on secondary suite conversions. He also leveraged his architecture and project management background and started a secondary suite conversion consulting business to help other investors navigate the world of secondary suite conversions.
Ronald has done 100-150 secondary suite designs for clients in the GTA area. He describes himself as the gatekeeper of this strategy and provides insights and advice on converting single-family dwellings into secondary suites. From understanding zoning, obtaining permits, and going through the renovation process his company will be with you every step of the way. His main message is that secondary suites are not a walk in the park, don't be afraid to reach out to the experts.
In this episode you will learn about:
– The history of the secondary suite strategy
– Criteria for a secondary suite conversion
– Explaining zoning and flood plains
– Misconceptions when converting secondary suites
– Describing heritage buildings and designated areas
Ronald is the President of Property Pathways Inc. and delivers on his promise to pioneer an enriched design and construction management experience for real estate investors and their BRRR projects. He co-founded Property Pathways Inc. after seeking expert advice on the process of converting a single-family dwelling into a two-unit dwelling in Ontario and yielded unsatisfactory results.
By leveraging his years of experience and education in the commercial construction sector, he became a secondary suite zoning bylaws and building code subject matter expert and has since successfully assisted hundreds of real estate investors in Ontario on the legal secondary suite conversions process.
He has helped real estate investors identify Suite-Able properties, prepare building permit drawings, and develop unique renovation strategies. Property Pathways operations have little geographic sensitivity, as we support clients and a BRRR with legal conversion in major real estate investment centers in Ontario.
Navigating municipal zoning bylaws and building code in Ontario can be daunting when considering adding a cashflow property to your portfolio. So, we remove the problem and bridge the gap to creates a pathway to profits.
Get in touch with Ronald:
Website: https://www.propertypathways.ca/
Facebook: https://www.facebook.com/propertypathway
Instagram: https://www.instagram.com/propertypathways/
This episode has been brought to you in part by:
Black Jack Contracting Inc – https://blackjackcontractinginc.ca/
Private Buyers – https://privatebuyers.ca/
Butler Mortgage – https://www.butlermortgage.ca/