Podcast: Play in new window | Download
Subscribe: Apple Podcasts | Google Podcasts | Spotify | Android | Stitcher | Email | TuneIn | RSS | More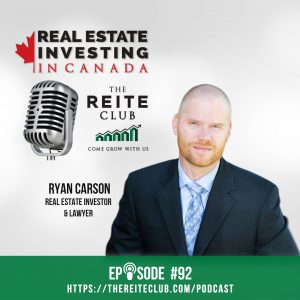 There are so many things to consider when negotiating a JV agreement such as what to include in a JV agreement, how do you protect yourself, and how do you terminate the agreement if things don't work out? Also, what are some of the conversations that each party should have ahead of time?
This week's guest, Ryan Carson, Lawyer and also a Real Estate Investor, provides legal insights and advice on JV agreements and how to put them together. His main message is to have conversations ahead of time before agreeing to a JV partnership and consult a lawyer throughout the process.
Ryan also discusses the advantages and disadvantages of incorporating for realtors as they are able to do so in Ontario as of October 1, 2020.
In this episode you will learn about:
– Types of JV agreements
– Important conversations and topics to cover
– Terminating JV contracts
– How letters of intent work
– Advantages & disadvantages of incorporating as a realtor
Ryan Carson is the fearless leader of the Carson Law team, establishing the firm in 2013 after working for someone else for 6 years. An undergraduate of Acadia University, Ryan majored in Kinesiology with intentions of going into the sports business or becoming a pro sports agent. The only athlete he ever represented never made it very far and Ryan found his true calling was working intimately with people, families, and businesses. His main focus is in corporate law, wills & estates and real estate law.
One of Ryan's greatest accomplishments is the fact that he has grown from being a one lawyer shop with only a single administrator to where he now oversees the daily operations at two law firms that employ over 20 people combined. However, Ryan is most proud of the beautiful family that he has built, consisting of his wife and two children.
Ryan can be considered the office philosopher as he often talks about finding the perfect work-life balance, which he pursues by filling his time away from the office with golf, hockey, baseball, time with family and on whatever beach he can find.