Podcast: Play in new window | Download
Subscribe: Apple Podcasts | Google Podcasts | Spotify | Android | Stitcher | Email | TuneIn | RSS | More
Guest: Kayla Andrade, Real Estate Investor & Landlord Advocate
Covid 19 has been around for more than 6 months and there have been many changes and updates to the landlord-tenant relationship. There are constant changes to bills and government programs that all landlords need to be aware about. This week's guest, Kayla Andrade, Real Estate Investor & Landlord Advocate, is the expert on being a landlord and started the Ontario Landlord Watch group with the focus of all landlords in Ontario joining forces to make their voices heard against the injustice of Government actions.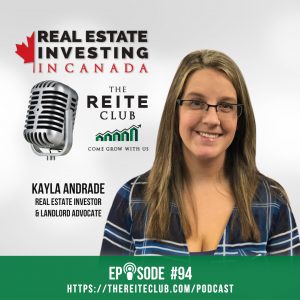 Kayla provides insights and advice on being a landlord during these times and updates on the new bills and government programs available to tenants. Her main message is to network with as many landlords as possible, get to know them, where they are from, what they like to invest in and work together as a team for the protection of your rental properties.
In this episode you will learn about:
What does a payment plan look like?
New bills and updates on government programs
Next steps/call to action for landlords
Getting into property management
Market insights and updates
Steps to take when getting a new portfolio
Kayla Andrade has 17 years of real estate investing experience and is the President of the Ontario Landlords Watch which provides a comprehensive service to members through education, policy development and advocacy.
Ontario Landlords Watch serves residential landlords and property managers, providing members with a vast network of resources from landlords, property managers, realtors elected officials, businesses, legal services, and consulting.
In their Facebook and private chat groups, they discuss topics that affect investors/landlords' livelihoods, with the purpose of creating a dialogue for positive change. Subjects include, but aren't limited to:
The Residential Tenancy Act
Landlord and Tenant Board
Municipal by-laws that affect rental properties
Case studies involving experiences with troublesome tenants.
Bottom line – OLW provides landlords with the opportunity to have their voices heard, in order to create solutions for the betterment of the rental housing industry in Ontario.