Podcast: Play in new window | Download
Subscribe: Apple Podcasts | Google Podcasts | Spotify | Android | Stitcher | Email | TuneIn | RSS | More
2022 has been quite the year for The REITE Club podcast with us hitting over 200 episodes since we started and now identified as one of the top 1.5% most popular shows out of almost 3 million podcasts globally as ranked by Listen Score.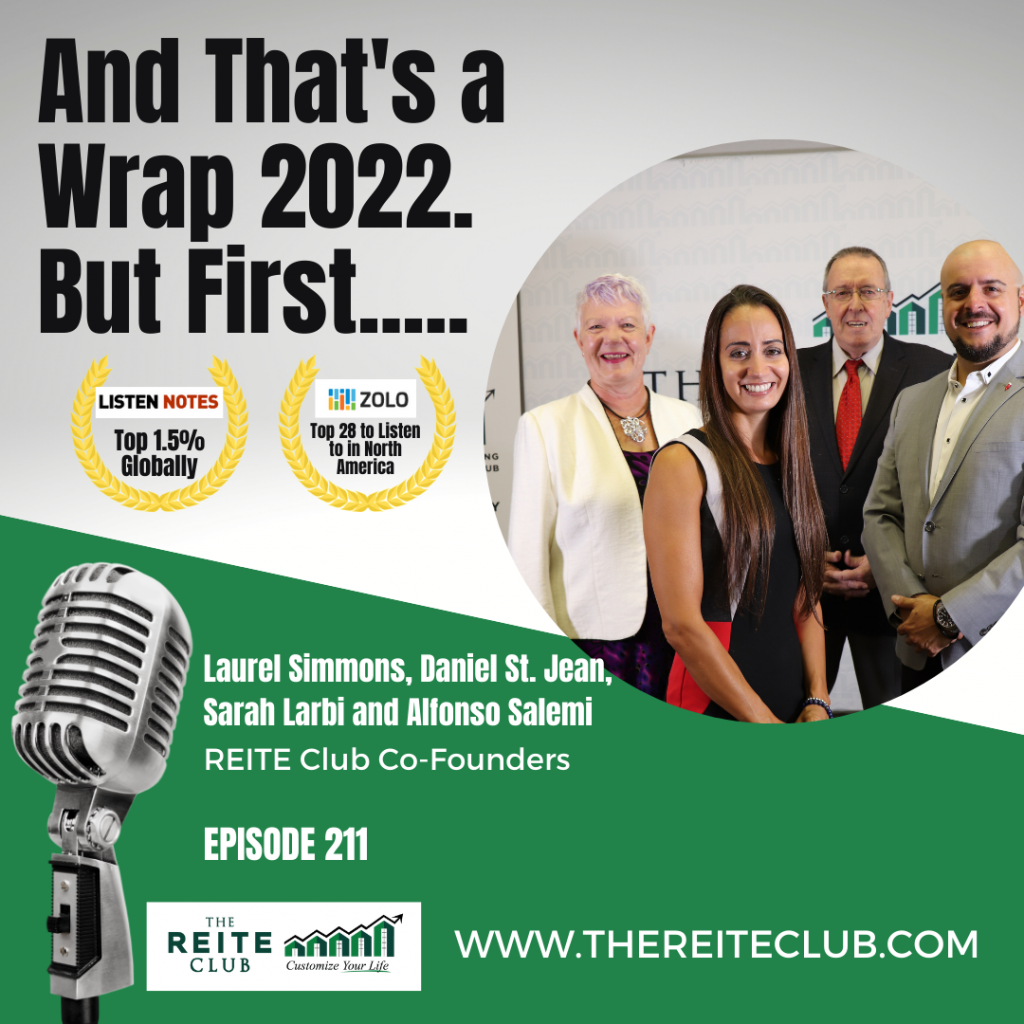 We have also been recently recognized by Zolo.ca as one of the best Real Estate podcasts in Canada and one of the Top 28 in North America to listen to – check out their list here The Top 28 Real Estate Podcasts You Should Add to Your Queue
https://www.zolo.ca/blog/real-estate-podcasts
And congratulations to our very own co-founder Sarah Larbi whose podcast also appeared on this list.
As a wrap-up for the year, we decided to ask our main co-hosts of the show what their favourite episodes have been this year.
Listen in as they share what inspired them this year and why;
Laurel Simmons
Episode 190 – From Welfare to Digital Nomad Lawyer
https://thereiteclub.com/en/podcast/welfare-digital-nomad-lawyer-ep-190
Episode 195 – Discipline and Mindset Equals Success in Real Estate Investing
https://thereiteclub.com/en/podcast/discipline-and-mindset-equals-success-real-estate-investing-ep195
Daniel St Jean
Episode 161 – From Police Officer to Real Estate Developer
https://thereiteclub.com/en/podcast/police-officer-real-estate-developer-ep-161
Episode 192 – Importance of working with investor-focused realtors
https://thereiteclub.com/en/podcast/importance-working-investor-focused-realtors-ep-192
Sarah Larbi
Episode 197 – Lessons From Becoming a Full-Time Real Estate Investor
https://thereiteclub.com/en/podcast/lessons-becoming-full-time-real-estate-investor-ep-197
Episode 202 – Understanding Landlord and Tenant Issues – A Paralegals Perspective
https://thereiteclub.com/en/podcast/understanding-landlord-and-tenant-issues-paralegals-perspective-ep-202
Check out our Co-Founders' businesses
Laurel Simmons – https://winebehindthescenes.com/
Daniel St Jean – http://sasreig.com/
Sarah Larbi – https://sarahlarbi.com/
Alfonso Salemi – https://jaagproperties.com/
This episode has been brought to you in part by
Private $ 4 Mortgages – https://privatemoney4mortgages.com/
BM Select – https://bmselect.ca/
The REITE Club podcast – for sponsor slots contact Katherine at grow@thereiteclub.com