Podcast: Play in new window | Download
Subscribe: Apple Podcasts | Google Podcasts | Spotify | Android | Stitcher | Email | TuneIn | RSS | More
Alisha Fuss and Patrick Bobczynski have been investing in real estate for a little over a year and a half, and they're currently focusing on properties in the Calgary area. Living through renovations can be tough, but they've managed to stay together and have some fun along the way. The couple offers some great advice for other investors, including tips on how to avoid getting overwhelmed by all the information out there.
Alisha and Patrick discuss their strategy for investing in properties with illegal basement suites. They explained that it is easier to legalize an existing suite than to add one from scratch. They also discussed the requirements for adding a basement suite from scratch, which includes two furnaces, insulation, and drywall.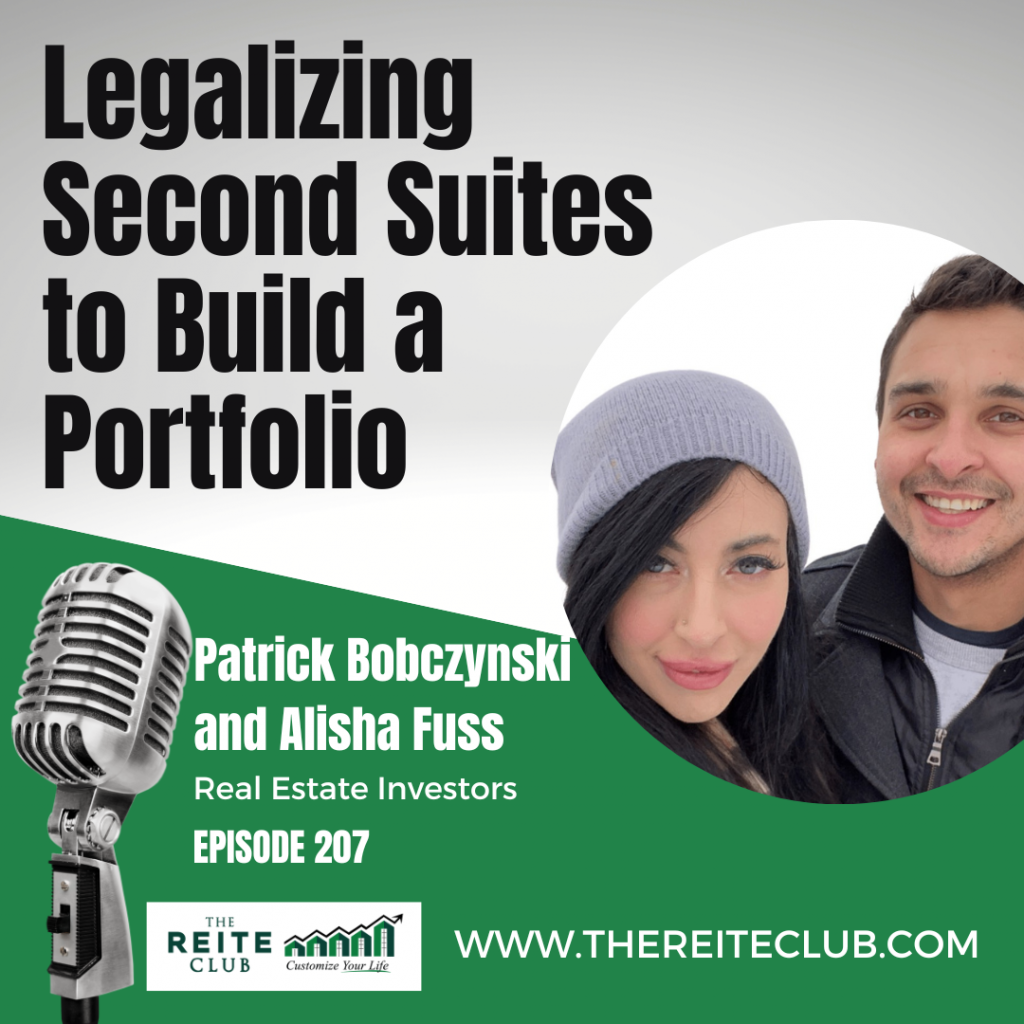 Both are real estate agents who specialize in finding and updating illegal basement suites. They say that it is relatively easy to update an illegal suite into a legal one and that doing so can save the owner a lot of money. They advise people interested in this type of investment to just dive in and not get overwhelmed by the information out there.
They discuss the importance of taking action and not over-analyzing when it comes to real estate investing. They mention that interest rates have been low for years and are now starting to rise again, which can be a good time to buy for investors. They also talk about a renovation project they are currently working on that is fairly extensive.
It is possible to save money by doing some of the work on a property oneself, and that YouTube can be a helpful resource for learning how to do this. They also say that finding good contractors is the most important thing.
The episode also covers how to save money on home renovation costs by doing some tasks yourself, such as painting and flooring. It also mentions that demolition can be tricky if you don't know how the finished product will look, so it's important to be thoughtful about what you're taking out. The couple advises that if you are considering doing your own demolition for your home renovation project, it is smart to get someone else's opinion who has done it before or is a contractor. They also say that it is important to have somebody to ask tough questions to when you are unsure what to do during the renovation process.
The best advice that Alisha and Patrick have received is to focus on one strategy and to get really good at it. This way, they can avoid getting distracted and can make the most of their time and resources. They also talk about the importance of surrounding yourself with people who are doing what you want to be doing, in order to change your life.
Get in touch with Alisha and Patrick:
Website: https://heelsandhammerinvest.com/
Instagram: @heelsandhammer_
Email: patandalisha@gmail.com
Facebook: https://www.facebook.com/alisha.nicole.23 
Resources:
Please check out all our podcast episodes https://thereiteclub.com/podcast/
Loved this episode? Please leave us a review and rating.
This episode has been brought to you in part by:
Black Jack Contracting Inc – https://blackjackcontractinginc.ca/
BM Select/Butler Mortgage – https://bmselect.ca/
The REITE Club podcast – for sponsor slots contact Katherine at grow@thereiteclub.com