Podcast: Play in new window | Download
Subscribe: Apple Podcasts | Google Podcasts | Spotify | Android | Stitcher | Email | TuneIn | RSS | More
Real estate is a complex and dynamic field that touches the lives of millions of people every day. It's a domain where fortunes are made and lost, dreams are realized and shattered, and every transaction tells a unique story.
As we celebrate the 250th episode of The Reite Club podcasts, we have invited three distinguished real estate professionals, Glen Sutherland, Martin Mei, and James Knull, to share their best and worst experiences in their illustrious careers in real estate investing.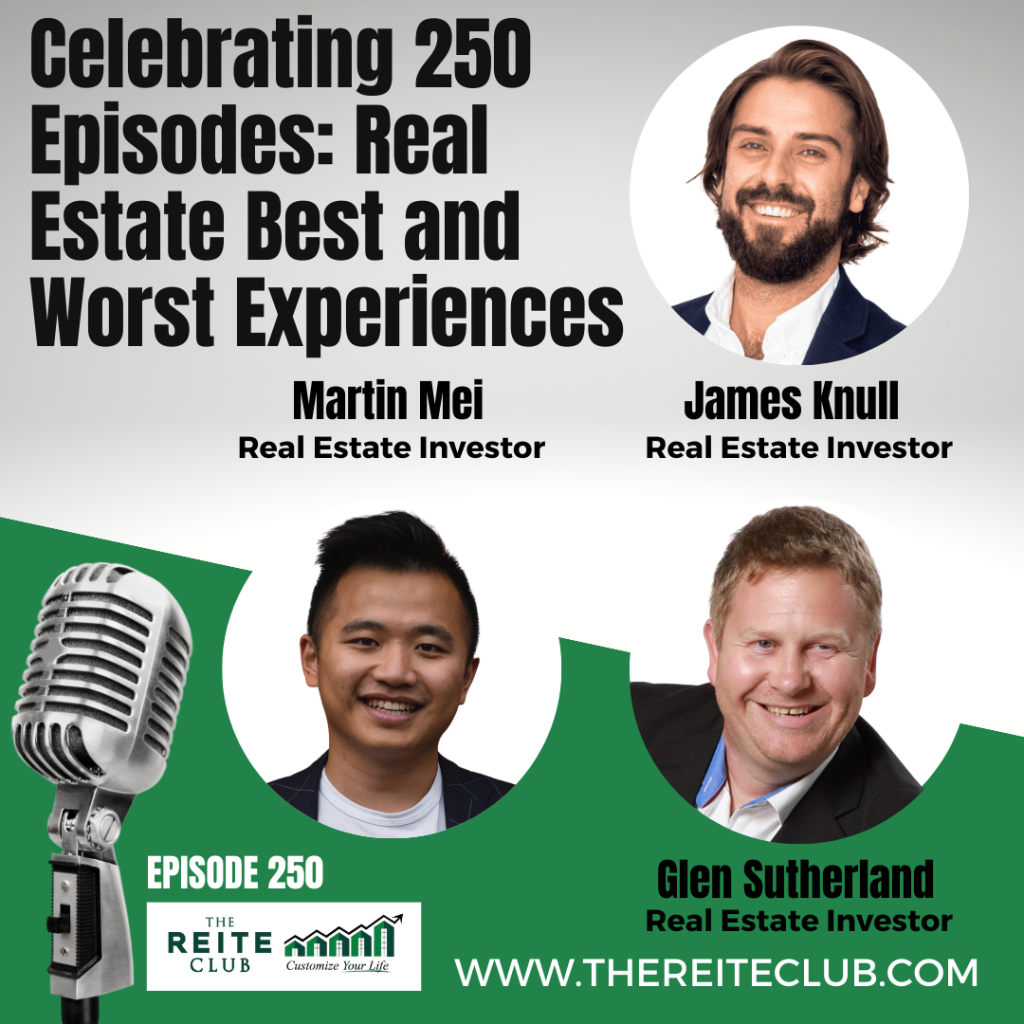 Glen, Martin, and James are highly regarded real estate investors with diverse portfolios and proven track records. Glen is known for his extensive experience and unique approach to property investment, while Martin has showcased his acumen through successful investments and strategic market understanding. James, head of Mogul Realty Group, is recognized for consistently generating profits from his ventures and adeptness in handling high-pressure situations.
In this episode, you will be able to:
Gain insight into first-hand experiences and lessons from seasoned real estate investors.
Learn to navigate challenges associated with financing and handling tenant issues.
Understand how creative problem-solving can open new doors to opportunity in real estate.
Discover the necessity of performing comprehensive due diligence and partnering with trustworthy professionals.
Uncover the secrets to striking a balance between immediate cash flow and long-term net worth in real estate.
Get in touch
Glen:
https://www.glensutherland.com/
https://www.facebook.com/glen.sutherland.18
https://www.linkedin.com/in/glen-sutherland-557bb390/
https://www.youtube.com/channel/UC6ziyJJ3qwd_lG9riF-5BhQ
Martin:
https://meilyproperties.ca/
https://www.facebook.com/MeilyInvestmentGroup
https://www.instagram.com/meilyinvestmentgroup/
https://www.linkedin.com/company/meily-investment-group/
https://www.youtube.com/@meilyinvestmentgroup
James:
https://mogulrg.com/
https://www.facebook.com/james.knull/
https://www.instagram.com/jimmy__k/?hl=en
This episode has been brought to you in part by
Better Mortgage Select – https://bettermortgageselect.ca
Legal Second Suites – https://legalsecondsuites.com/