Podcast: Play in new window | Download
Subscribe: Apple Podcasts | Google Podcasts | Spotify | Android | Stitcher | Email | TuneIn | RSS | More
Whether you are a novice real estate investor or someone with more experience having the right people on your team can make or break your success. An important member of that team is a real estate investing-focused realtor. In this week's podcast, you get two for the price of one with the power duo of Enza Manduca and Meaghan Lazenby of eXp Realty. Enza and Meaghan share their passion and love of real estate which made them both leave their corporate jobs behind and seek to make a difference for others. In our conversation, they both share some great insights on what you should be asking a realtor, what to expect in working with one and how their process accelerates the investing process for their clients. Also, understand how the real estate market in the west GTA has changed over the last 6 months and where the opportunities are now.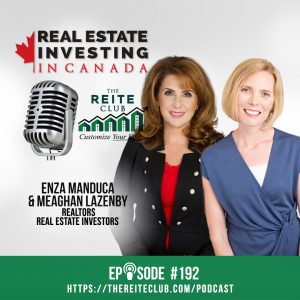 In this episode you will learn about:
How the real estate market has changed in the last 6 months
The shift from pre-construction to resale investment properties
Moving from corporate life to real estate
Working with real estate investors
The process of helping novice investors
Best business advice received
Top 3 questions to ask a real estate agent
Guests:
Meaghan Lazenby and Enza Manduca are both investor focused realtors and investors.
Working in the Golden Horseshoe and Niagara Region areas, they help their clients build generational wealth through purchasing cash-flowing properties.  They help their clients play the real-life game of Monopoly and win!
Based out of eXp Realty and are also building an international team and specialize in coaching both novice and experienced investors in single family, multi-family, student rentals, pre-construction, flipping and BRRR projects.
When they are not working with clients, you can find Meaghan spending time with her family around their pool or on the ice playing ice hockey and you can find Enza Latin dancing or at the spa!
Get in touch:
Meghan Phone: 289-772-8488
Enza Phone: 905-808-5158
Email
meaghanlazenby@gmail.com
enza@manduca.ca
Follow on Instagram
@meaghanlazenby2020
@enzamanduca
This episode has been brought to you in part by
Black Jack Contracting Inc – 
https://blackjackcontractinginc.ca/
BM Select – 
https://bmselect.ca/