Podcast: Play in new window | Download
Subscribe: Apple Podcasts | RSS | More
Guest: Pip Stehlik, MBA & International Sales and Investment Trainer
Naysayers are your biggest barrier to your success and this can include yourself! Pip explains how he went from earning 35k per year to being an international sales trainer and a very successful real estate investor. He goes on to explain how investing in yourself is crucial and will help you grow. Pip also briefly discussed investment opportunities in the USA where taxation is most advantageous such as in Florida, Texas and Nevada.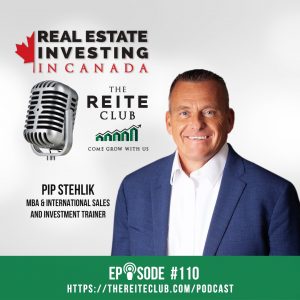 In this episode you will learn about:
Pip was one of Alfonso's first mentors
He's taught a lot in Canada even though he's American
How Rich Dad Poor Dad has changed his life
Zig Ziglar's influence on his investment career
Investing in mentors is essential
So many ways to invest! Flips, wholesaling, lease options and more!

Get in touch with Pip:
Website: https://www.burbankcompanies.com/index
Email:pip@burbankcompanies.com
This episode has been brought to you in part by
White Elm Design Build – https://www.whiteelmdesignbuild.com/
Elevation Realty – http://www.elevationrealty.ca/
Butler Mortgage – https://www.butlermortgage.ca/