Podcast: Play in new window | Download
Subscribe: Apple Podcasts | Google Podcasts | Spotify | Android | Stitcher | Email | TuneIn | RSS | More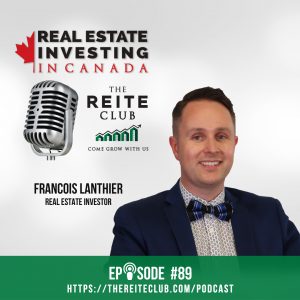 Guest: Francois Lanthier, Real Estate Investor
What would you do to get started in real estate? Would you take action or end up with analysis paralysis and not start at all? This week's guest Francois Lanthier, Real Estate Investor decided to take action by living in his own flip projects. He did this on 3 different occasions over 6 years and then decided to make a change to the long term wealth creation strategy of multi-family.Francois provides insights and advice on how to scale your portfolio. He also shares how he has involved his family with real estate investing and that his kids are excited to get started when they are able. His main message is that you need to have a strong why to help you through the hard times and taking action by starting with one house and going from there.
In this episode you will learn about:
– Mortgage options and strategies for flips
– Financing tips for multi-family properties
– Strategies for approaching buyers with VTBs
– Tips for involving the family
– Self manage vs. property management
– Strategies for finding and dealing with tenants
– The 1% Rule
François Lanthier has been investing in real estate for the past 15 years but with a much heavier focus in the past 2 years after discovering the REITE Club. His portfolio is mostly centred around secondary markets where he's found the ROI to be exceptional. He now has several multi-unit properties and in different provinces.He is an experienced Marketing and Communications professional with a demonstrated history of working in various industries such as real estate, interior design, consumer goods, professional services, healthcare and much more. He is skilled in Search Engine Optimization (SEO), Sales, Management, Business Development, and Social Media, SEM and email marketing through automated campaigns on Pardot and MailChimp.
Together with his wife and children, he's building generational wealth with his company FL Homes Corp (Famille Lanthier Corporation).