Podcast: Play in new window | Download
Subscribe: Apple Podcasts | Google Podcasts | Spotify | Android | Stitcher | Email | TuneIn | RSS | More
Start your real estate investing journey with house hacking.
"Go for the ugliest home. And you do those improvements and go for the cheapest possible price so that you can put less money of yours into the deal."
Our podcast guest this week, Aditya Soma, is a real estate investor and entrepreneur based in Canada. He started his real estate journey in 2016 and has since built a portfolio of 47 rental units. He is also the owner and operator of a successful real estate sales business.
He came from a lower-middle-class family in India, his Father had to borrow money from friends and relatives to enable Aditya to come to Canada for his education. He worked various odd jobs to make ends meet and eventually found his way into the real estate industry. He now owns 47 units and has quit his software job to focus on his real estate business full-time.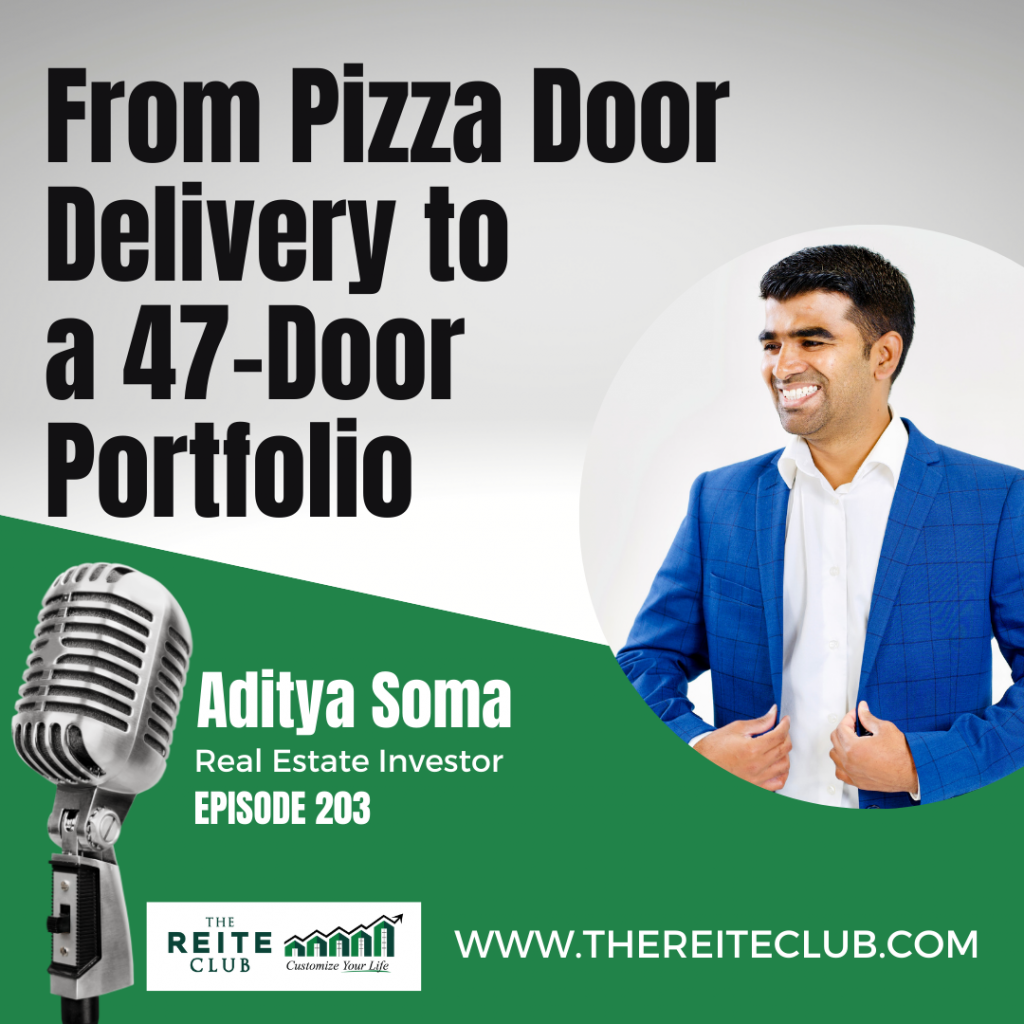 In this episode, you will learn the following:
How Aditya Soma went from being a poor student with debt to becoming a successful real estate investor with 47 rental units
The importance of building credit and having a good credit score
How house hacking can be a great starting point for new real estate investors
Other episodes you'll enjoy:
Reflections on Last 2 Years and Where Are We Heading (Ep. 200)
https://thereiteclub.com/en/podcast/reflections-last-2-years-and-where-are-we-heading-ep-200
Scaling your Portfolio – Success is in the Details (Ep. 177)
https://thereiteclub.com/en/podcast/scaling-your-portfolio-success-details-ep-177
Investing in Real Estate as a Couple and as a Team (Ep. 170)
https://thereiteclub.com/en/podcast/investing-real-estate-couple-and-team-ep-170
This episode has been brought to you in part by
Black Jack Contracting Inc – https://blackjackcontractinginc.ca/
BM Select – https://bmselect.ca/
The REITE Club podcast – for sponsor slots contact Katherine at grow@thereiteclub.com
Loved this episode? Please leave us a review and rating.
Please check out all our podcast episodes https://thereiteclub.com/podcast/
From being an immigrant with over $100K in debt to becoming financially independent at 30,
Aditya Soma is a software engineer turned real estate agent in Canada making over a million dollars in commissions. He has not just built a dream life for his family but is also helping people create FREEDOM. It all started with one YouTube video; today he has 20,000+ Subscribers, with over 1 million views, and in 2021 he and his company (WincityReal Estate Team) sold $75million of real estate.

Aditya comes from a humble background in India and has had a tough childhood. He has seen his father hustle into odd jobs to get the food on the table. And now, finally, he helped retired his father, paid away all his debt, and is living the Canadian dream with his family.

Aditya has been rated as #1 real estate agent in Windsor, ON, and is among the top 40 Real Estate Agents in Canada. In his personal portfolio, he has accumulated 47 doors and counting
Aditya Kumar Soma's contact info:
Email: aditya@wincityre.com
Website: https://adityasoma.com/
Instagram: @adityakumarsoma
Facebook: https://www.facebook.com/adityaksoma
Youtube: https://www.youtube.com/c/AdityaKumarSoma
Linkedin: https://www.linkedin.com/in/aditya-kumar-soma-755679109/
Connect with The REITE Club:
Instagram: https://www.instagram.com/reiteclub/
Facebook: https://www.facebook.com/groups/thereiteclub
YouTube: https://www.youtube.com/channel/UCKPoaUTDRdCx9-Db-aI0ehg
Twitter: https://twitter.com/thereiteclub
LinkedIn: https://www.linkedin.com/company/the-reite-club/
Website: https://thereiteclub.com/