Podcast: Play in new window | Download
Subscribe: Apple Podcasts | RSS | More
Guest: Nancy Morris, Certified Business Psychologist
This episode is part of our Mind Estate series. We interviewed Nancy to find out how we can have a wealthy mind! Mindset is a huge part of becoming a real estate investor and we discussed many strategies to help us get past any mental well-being hurdles.
Most people's mental well-being fluctuates during the day and that is normal. Investing in your self-discovery journey is essential for any growth. Having a well-aligned decision-making system comes from the depth of self-awareness.
Nancy also explained THE MORRIS CODE that is offered to the REITE Club members. Make sure to check out our website for this amazing resource! Visit www.bit.ly/REITE  to sign up today.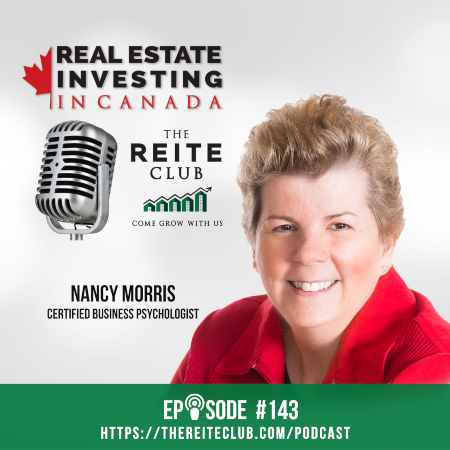 Listen to the full episode at https://www.thereiteclub.com/podcast
In this episode you will learn about:
Mind wealth
How to get back to productivity
Microlearning formats
The Morris code
Living your best potential
Mental well-being 
Get in touch with Nancy:
Website: https://www.nancymorris.com/
Email: Nancy@NancyMorris.com
This episode has been brought to you in part by
Building Stack – www.buildingstack.com
Private Buyers – https://privatebuyers.ca/
BM Select – https://bmselect.ca/
The show notes are brought to you in part by Building Stack, our official digital signatures provider. Building Stack is a flexible property management platform built in Canada. Sign documents and leases faster with their new digital signature add-on! Special REITE Club discount to get started today! www.buildingstack.com