Podcast: Play in new window | Download
Subscribe: Apple Podcasts | RSS | More
Guest: Susan Flanagan, Real Estate Investor and Mortgage Broker
Private money and creative financing is something that all investors will have to learn about and utilize if they want to scale up their portfolios. This week's guest, Susan Flanagan, Real Estate Investor and Mortgage Broker, is the matchmaker between borrowers and lenders when it comes to private money.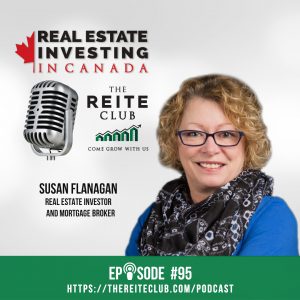 Susan provides insights and advice on private money and the reasons why investors would want to use private money. It can be the wild west out there when it comes to private money however if you have someone like Susan who can educate you on your side you will be all right. Her main message is to hang in there with COVID-19, we are all going to survive this and we are going to grow whether it's good or bad news in the economy.
In this episode you will learn about:
– Definition of private money
– Common reasons for investors to use private money
– Top things to consider before you lend and before you borrow
– How can a 2nd mortgage be helpful for those coming up on a refinance?
– Things to have ready to go to lenders & borrowers
Susan Flanagan started real estate investing by accident when she was an Emergency Nurse but soon became hungry for more and ended up with a second investment property in little over a year and has now been investing in Real Estate for over 25 years.Her Real Estate journey started with a condo purchase in the early 1980's, then continued with purchasing duplexes, student rentals, rent-to-own projects and also homes to fix and flip even when working in nursing in California.While still buying properties Susan also started lending money from her RRSP funds for mortgages. Initially, it was hard to find people to lend money to but once it started taking off she soon ran out of her own money and started helping investors make a connection with others who had private money to lend.
Susan was effectively brokering deals so she realized she needed to obtain a mortgage licence so that she could assist borrowers and lenders on a regular basis. Now as the Principal Broker/Owner of "Private Money 4 Mortgages – Lic #13251" , Susan's mortgage brokerage specializes in private mortgages.
Now, most of her real estate investing is done with private lending for mortgages through registered funds (RRSP, RESP, RRIF, TFSA, LIRA) as well as using cash.